Product Introduction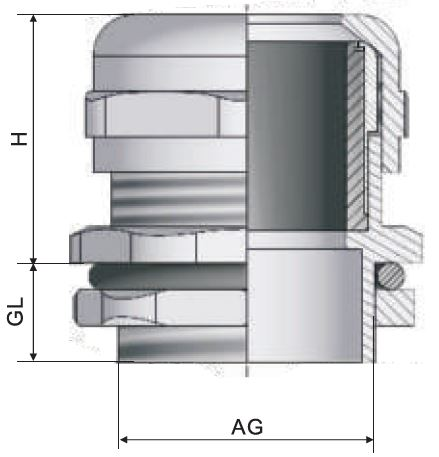 Thread specification: PG
Product material: The joint body parts are made of brass, the clamping part is made of nylon ( PA ), and the seals and O-ring are made of nitride rubber ( NBR ).
Certificates: CE, IP68, ISO9001, TUV
Protection Degree: In the specific cable range, the using of O-ring helps tighten head so that to reach IP68-10 bar.
Working Temperature:
Satic: -40 DEG to 100 DEG C, short time of up to 120 DEG C.
Dynamic: - 20 DEG to 80 DEG C, short time of up to 100 DEG C
Thread Length: The short thread suitable for holes in thin board or equipment with inner thread, while the long thread is available for thick plate. Threaded extension can be customized.
Features: The cable gland is a product of large scope, high tensile strength, waterproof, dustproof, salt, acid and alkali resistance, alcohol, oil and solvent resistance.
Function: Waterproof metal cable gland is the product forms a complete set of the cable, connector cable can be locked, and the other end can access the devices through the box body, also can choose thread access according to the entry and outlet of the internal thread electric devices.
More options: Customization is acceptable. Welcome to inquire
Metal cable gland - PG thread series
Product Code
Thread specification AG
Available cable range(mm)
Thread O.D (mm)
Mounting Hole Diamter (mm)
Thread Length GL(mm)
Joint Length H(mm)
Spanner size (mm)
JX-PG7A-NP
PG7
6.5-3
12.5
12.5-12.7
7
19
14
JX-PG7B-NP
PG7
5-2
12.5
12.5-12.7
7
19
14
JX-PG9A-NP
PG9
8-4
15.2
15.2-15.4
8
20
18
JX-PG9B-NP
PG9
6-2
15.2
15.2-15.4
8
20
18
JX-PG11A-NP
PG11
10-5
18.6
18.6-18.8
8
21
20/21
JX-PG11B-NP
PG11
7-3
18.6
18.6-18.8
8
21
20/21
JX-PG13.5A-NP
PG13.5
12-6
20.4
20.4-20.6
8
22
22
JX-PG13.5B-NP
PG13.5
9-5
20.4
20.4-20.6
8
22
22
JX-PG16A-NP
PG16
14-10
22.5
22.5-22.7
9
23
24
JX-PG16B-NP
PG16
12-6
22.5
22.5-22.7
9
23
24
JX-PG19A-NP
PG19
14-10
25
25-25.2
9
25
24/27
JX-PG19B-NP
PG19
16-8
25
25-25.2
9
25
27
JX-PG21A-NP
PG21
18-13
28.3
28.3-28.5
9
27
30/32
JX-PG21B-NP
PG21
16-9
28.3
28.3-28.5
9
27
30/32
JX-PG25A-NP
PG25
22-15
32
32-32.2
10
29
35
JX-PG25B-NP
PG25
20-16
32
32-32.2
10
29
35
JX-PG29A-NP
PG29
25-18
37
37-37.2
11
31
40
JX-PG29B-NP
PG29
20-13
37
37-37.2
11
31
40
JX-PG36A-NP
PG36
33-25
47
47-47.2
12
37
50
JX-PG36B-NP
PG36
26-20
47
47-47.2
12
37
50
JX-PG42A-NP
PG42
38-32
54
54-54.2
13
38
57
JX-PG42B-NP
PG42
31-25
54
54-54.2
13
38
57
JX-PG48A-NP
PG48
44-37
59.3
59.3-59.5
14
38
64
JX-PG48B-NP
PG48
35-29
59.3
59.3-59.5
14
38
64
JX-PG63-NP
PG63
52-42
72
72-72.2
15
42
78
The key words of this product: