Material:
Body: brass nickel-plated
Cap nut: brass nickel-plated
Clamping Insert: polyamide,Pa6 V2
Sealing ring: NBR
O-ring: NBR
Product Certification: CE certificationand ISO9001.
Protection Degree: IP67
Working temperature: -40℃to 100℃, short time up to 120℃.
Function:
1. Can be used in flexible metallic conduit or liquid tight conduit in Power Plant, Power transmission system, communication system, building factory, railway, train, transportation system project, air conditioner, various machines, automates controlling plant. And protecting the electrical wire or cable outside the construction and plant.
2.Use to positively bond the conduit to a box or enclosure.
More options: Customization is accept.Welcome to inquire.
Flexible Cable Gland(With Strain Relief) -- metric thread
Product Code
Thread AG
Cable range(mm)
Body Height (mm)
Thread length GL(mm)
Spanner Size (mm)
JX-M12A-FL
M12*1.5
3-6.5
53
8
14
JX-M12B-FL
M12*1.5
2-5
53
8
14
JX-M16A-FL
M16*1.5
4-8
66
8.2
17
JX-M16B-FL
M16*1.5
2-6
66
8.2
17
JX-M20A-FL
M20*1.5
6.7-12
88
9
22
JX-M20B-FL
M20*1.5
5-9
88
9
22
JX-M25A-FL
M25*1.5
13-18
111
10
30
JX-M25B-FL
M25*1.5
9-16
111
10
30
The Drawing of Flexible Cable Gland: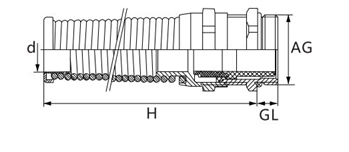 The key words of this product: