Products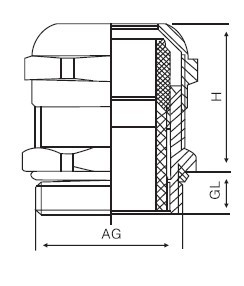 Thread Size: Metric Thread
Material: The joint body parts are made of nickel plated brass, the clamping part is made of plastic(PA), and the seals and O-ring seals are made of nitrile rubber (NBR).
Operating temperature:
Static: -40℃to 100℃, short time up to 120℃.
Dynamic: -20℃to 80℃, short time up to 100℃
Thread length: The short thin thread is suitable for holes in thin board or devices with internal thread, while the long thread is available for thick board. Long threads can be customized.
Features: The Cable gland is a product of large range, high tensile strength, waterproof, dustproof, salt, acid, alcohol, grease and common solvent resistant.
Function: Metal Cable Gland is cable supporting products, connector cable can be locked, the other end of the device can access the devices through the box body, also can choose thread access according to the entry and outlet of the internal thread electrical equipment.
More options: Customization is acceptable. Welcome to inquire when ordering.
Metric Thread Series
Product Code
Thread specification AG
Avaiable cable range(mm)
Thread O.D.(mm)
Mounting Hole Diameter (mm)
Thread length GL (mm)
Spanner Size(mm)
JX-M12-TR
M12*1.5
6.5-3
12
12.12.2
7
14
JX-M14-TR
M14*1.5
8-4
14
14-14.2
7
17
JX-M16-TR
M16*1.5
8-4
16
16-16.2
8
18
JX-M18-TR
M18*1.5
10-5
18
18-18.2
8
20
JX-M20-TR
M20*1.5
12-6
20
20-20.2
8
22
JX-M22-TR
M22*1.5
14-10
22
22-22.2
8
24
JX-M24-TR
M24*1.5
14-10
24
24-24.2
9
24/27
JX-M25A-TR
M25*1.5
16-8
25
25-25.2
9
24/27
JX-M25B-TR
M25*1.5
18-13
25
25-25.2
9
27
JX-M25C-TR
M25*1.5
18-13
25
25-25.2
9
30/27
JX-M27A-TR
M27*1.5
18-13
27
27-27.2
9
30
JX-M27B-TR
M27*2
18-13
27
27-27.2
9
30
JX-M28A-TR
M28*1.5
18-13
28
28-28.2
9
30
JX-M28B-TR
M28*2
18-13
28
28-28.2
9
30
JX-M30A-TR
M30*1.5
18-13
30
30-30.2
9
30/32
JX-M30B-TR
M30*2
18-13
30
30-30.2
9
30/32
JX-M32A-TR
M32*1.5
22-15
32
32-32.2
10
35
JX-M32B-TR
M32*1.5
20-16
32
32-32.2
10
35
JX-M32C-TR
M32*2
22-15
32
32-32.2
10
35
JX-M33A-TR
M33*1.5
22-15
33
33-33.2
10
35
JX-M33B-TR
M33*2
22-15
33
33-33.2
10
35
JX-M36A-TR
M36*1.5
25-18
36
36-36.2
10
40
JX-M36B-TR
M36*2
25-18
36
36-36.2
10
40
JX-M37A-TR
M37*1.5
25-18
37
37-37.2
10
40
JX-M37B-TR
M37*2
25-18
37
37-37.2
10
40
JX-M40A-TR
M40*1.5
25-18
40
40-40.2
11
40/45
JX-M40B-TR
M40*2
25-18
40
40-40.2
11
40/45
JX-M40C-TR
M40*1.5
30-22
40
40-40.2
11
45
JX-M40D-TR
M40*2
30-22
40
40-40.2
11
45
JX-M42A-TR
M42*1.5
30-22
42
42-42.2
11
45
JX-M42B-TR
M42*2
30-22
42
42-42.2
11
45
JX-M47A-TR
M47*1.5
33-25
47
47-47.2
11
50
JX-M47B-TR
M47*2
33-25
47
47-47.2
11
50
JX-M48A-TR
M48*1.5
33-25
48
48-48.2
11
50/52
JX-M48B-TR
M48*2
33-25
48
48-48.2
11
50/52
JX-M50A-TR
M50*1.5
38-32
50
50-50.2
12
50/55
JX-M50B-TR
M50*2
38-32
50
50-50.2
12
50/55
JX-M54A-TR
M54*1.5
38-32
54
54-54.2
12
57
JX-M54B-TR
M54*2
38-32
54
54-54.2
12
57
JX-M56A-TR
M56*1.5
38-32
56
56-56.2
12
57/59
JX-M56B-TR
M56*2
38-32
56
56-56.2
12
57/59
JX-M60A-TR
M60*1.5
44-37
60
60-60.2
13
64
JX-M60B-TR
M60*2
44-37
60
60-60.2
13
64
JX-M63A-TR
M63*1.5
44-37
63
63-63.2
13
64/68
JX-M63B-TR
M63*2
44-37
63
63-63.2
13
64/68
JX-M64A-TR
M64*1.5
44-37
64
64-64.2
13
64/68
JX-M64B-TR
M64*2
44-37
64
64-64.2
13
64/68
JX-M72-TR
M72*2
52-42
72
72-72.2
15
78
JX-M75-TR
M75*2
52-42
75
75-75.2
15
78
JX-M80-TR
M80*2
62-50
80
80-80.2
15
86/88
JX-M88-TR
M88*2
70-60
88
88-88.2
15
98
JX-M100-TR
M100*2
80-70
100
100-100.2
15
110
The key words of this product: